Warid Telecom now realizing the value of their postpaid customers are making some changes to their postpaid packages. Today Warid introduced late night and weekend offer called "Postpaid Plus" for the postpaid customers to call their loved ones for just 5 paisa per minute. Now from 12am to 7am talk longer than you ever did with your postpaid Warid connection. Most of the customers who wanted to switch to postpaid packages were being reluctant because of lesser options but now Warid is giving more opportunities.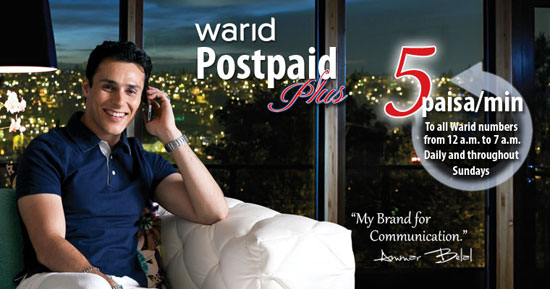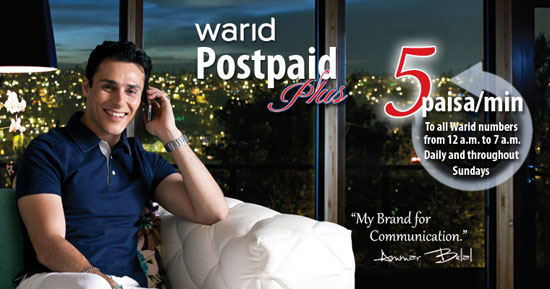 5 paisa per minute call to all Warid numbers from mid-night 12am to morning 7am and 24 hours all day long on Sundays can be availed for just Rs.99/month beside your regular line rent of postpaid connection.
Terms & Conditions:
5 paisa per minute rate applies to all Warid numbers.
Postpaid Weekend/LNO Offer's night timings are from 12am to 7am.
Weekend includes 24 hours of Sunday.
All postpaid subscribers new and existing (on Warid 250, Warid 500, Warid 750, Warid 1500, Warid 2500 and Warid 4000) can opt for this offer. Postpaid subscribers on other packages would have to change their base package to avail this offer.
Offer can be activated / deactivated any day – with no restriction of activation/deactivation on bill run.
After subscription this offer will remain active unless subscriber explicitly deactivates the offer.
Postpaid Weekend/LNO offer rentals are charged in advance on a monthly basis on the date of bill cycle.
The billing pulse for the campaign time bands would be 60 seconds and in other time bands base package billing pulse would be applicable (30 seconds currently).
Charging for On-Net calls during the campaign time bands would start after the utilization of FREE minutes.
F&F call charging during the package time bands will be same as per postpaid Weekend/LNO  On-Net rate.
Postpaid Weekend/LNO offer users need to add/delete F&F numbers on activation/deactivation of Postpaid Weekend/LNO offer.
This offer is not for prepaid subscribers.
All charges are exclusive of government taxes and levies including 19.5% Federal Excise Duty on usage & 10% withholding tax on billing.
[Via: Warid]