On 8th of March an International women's day is celebrated throughout the world to acknowledge and appreciate the role of women in this man's world. No doubt the life of a man is also backed up by a woman who can be his mother, wife or daughter, but usually is neglected. Ufone brings out an offer to acknowledge the role of women too by introducing Rs.1/hour call on the women's day.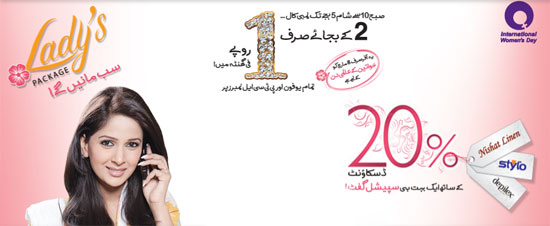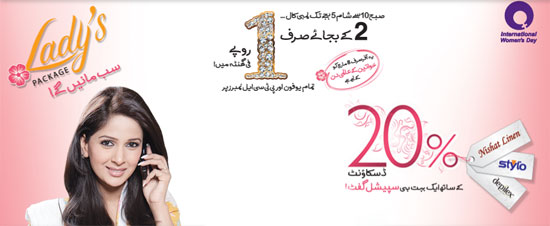 Ufone's latest offer for females lately has been the most talked about package in Pakistan these days. Ufone introduced a special Lady's Package with the most affordable rates and then later gave a new promo that ladies can get 20% discount on Stylo, Depilex and Nishat Lilen. Now on the International Women's Day, Ufone brings another appreciation to the role of women in this society by giving Rs.1/hour call rate (which is a 50% discount – regular rate is Rs.2/hour) from ufone to ufone and ufone to PTCL numbers.
In addition to Rs.1/hour call, if you go for shopping on Stylo, Depilex and Nishat Lilen you can avail 20% discount + a free gift hamper which is specially given to the females on this day.
Terms and Conditions:
Discount can be availed on all brands only once a month.
Promotion will start from 27 February 2011.
Duration of discount offer is different for different partners (Stylo: 3 months, Nishat: 4 months, Depilex: 6 months)
You cannot take advantage from these discounts if you are not a subscriber of Lady' s Package
Daily service charges for this package is 50 Paisas+tax
Ufone reserves the right to make this offer available for females only.
* 39# charges are 5 Paisas+tax
19.5% FED on usage and 10% withholding tax at recharge or bill applies
Terms and condition apply
Using SIMs without proper documentation is a crime – PTA
[Via: Ufone]