Mobilink Indigo a week ago introduced a new Indigo Blackberry Bundle package which is the most cheapest blackberry smartphone offer in Pakistan. Mobilink is shifting it's target towards smartphones now by introducing some amazing deals.
Mobilink formally introduced Samsung Galaxy Tab and HTC HD7 with its ongoing BlackBerry sales. But last week the introduction of the most attractive and most affordable blackberry deals in Pakistan were marvelous.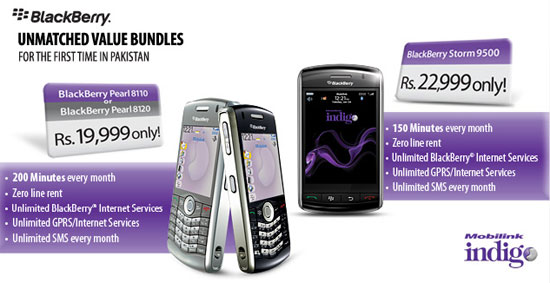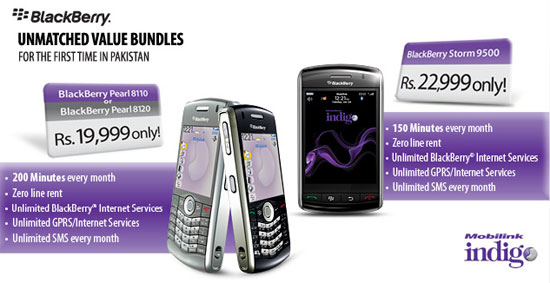 In this new offer, Mobilink Indigo is offering two handsets and most affordable price with free minutes, zero line rent, unlimited free SMS and unlimited Blackberry Internet Services and GPRS.
Blackberry Storm 9500 for Rs.22,999 – Including 150 free minutes every month, unlimited SMS, unlimited GPRS, unlimited blackberry internet services and zero line rent. (for 6 months)
Blackberry Pearl 8110 or 8120 for Rs.19,999 – Including 200 free minutes every month, unlimited SMS, unlimited GPRS, unlimited blackberry internet services and zero line rent. (for one year)
[Via: Mobilink]