Nokia Pakistan released three new smartphone handsets in the market. All these three Nokia smartphones are based on the latest version of Symbian Belle. The previous phones like Nokia X7 and N9 also got the updates for Symbian Belle, but I think the native handsets of the OS works better than the upgraded ones. Pakistan is becoming a hot market for cellular companies and every cellphone manufacturer is interested in investing in Pakistan.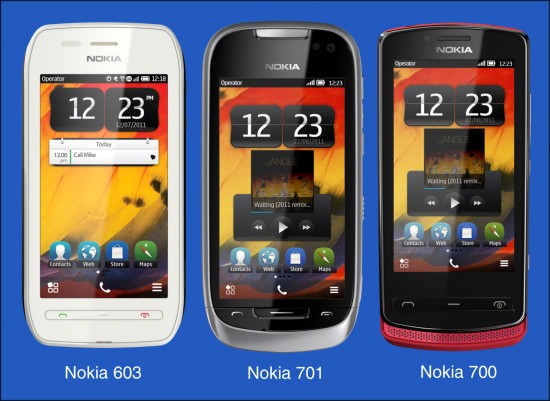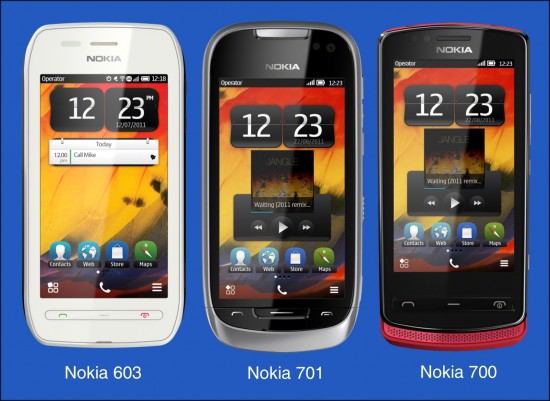 "After bringing exciting new features to the Symbian user experience only two months ago with Symbian Anna, we are now driving the platform even further with our most competitive Symbian user experience ever," said Ilari Nurmi, Vice President at Nokia. "Symbian Belle and the three new handsets we are launching today show our commitment to continue delivering Symbian products that allow people to choose what is most important to them in terms of user experience, design, functionality and price.  These will not be last products or updates we will deliver on Symbian."
Nokia 700: Nokia's smallest smartphone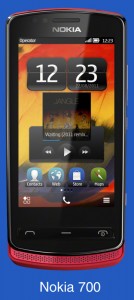 Weighing: 96gm
Size: 110 x 50.7 x 9.7 mm
NFC sharing
Processor: 1Ghz processor
Screen: 3.2 inch AMOLED screen Clear Black display
Memory: 2GB of internal memory
Memory Card: up to 32GB micro SD card
Video Recording: HD video capturing
Camera: 5MP full focus camera with LED flash
Nokia 701: Nokia's brightest smartphone
Screen Resolution: 3.5 inch Clear Black display
Active noise cancellation for the clearest sound quality
NFC pairing and sharing capabilities
Processor: 1GHz processor
Camera: 8MP full focus camera with dual LED flash and 2 X digital zoom
Secondary camera: Yes
Video Recording: HD video capturing
Memory: 8GB internal memory
Memory Card: up to 32GB micro SD Card
Nokia 603: Nokia's fast, bright and fully featured smartphone
Processor: 1 GHz
Screen: 3.5″ Clear Black touch screen
Customizable home screens
NFC-enabled
Camera:  5MP full focus
Video Recording: 720p HD
Memory: 2GB internal memory
Memory Card: 32GB micro SD card.
Symbian Belle
Symbian Belle is the latest in a series of planned software updates to the Symbian platform, which started with Symbian Anna and will continue into 2012. Symbian Belle increases the number of home screens from three to six providing more room to display applications and services. Live widgets, now come in five different sizes, making the home screens come alive and giving users more flexibility to personalize the user experience. It also includes a pull down menu and taskbar to access notifications from any of the home screens and further enhancements to the Web browsing experience. All in all, Symbian Belle provides Nokia's most competitive, seamless and intuitive Symbian experience so far.
One of Symbian Belle's most exciting features is the single-tap NFC sharing and pairing capability. This allows contacts, videos and images to be shared with other NFC-enabled devices and smartphones, as well as pairing with NFC-enabled mobile accessories such as speakers and headsets. Gaming fans also benefit from the NFC capabilities of the new handsets with the ability to unlock additional levels in Angry Birds or find a hidden blade in Fruit Ninja just by touching two NFC-enabled devices together. On the Nokia 701 smartphone, which comes preloaded with Asphalt 5, two friends can even pair to compete on the same racetrack.