Encyclopedia, an answer to everything you want to know is now available via SMS service in Pakistan to Mobilink Jazz customers. Mobilink started this new service called "Jazz Encyclopedia" in which the customer can send their questions and queries to 8889 and get the reply back either by automatic computerized database and if not found, then by manual agents.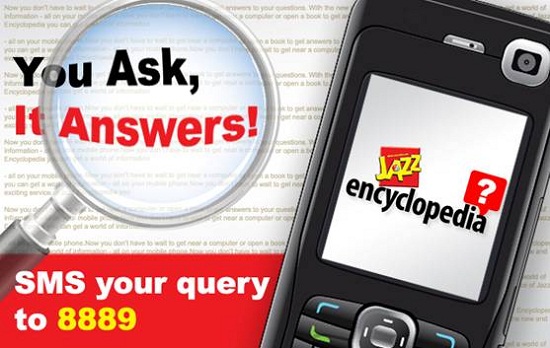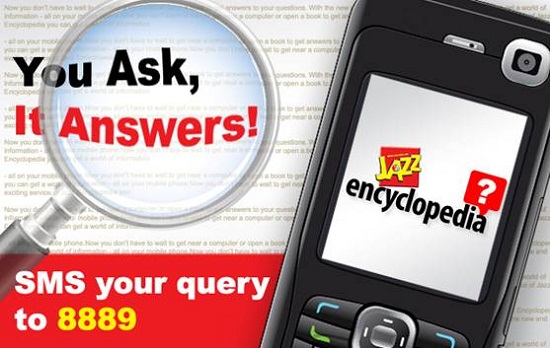 How does Jazz Encyclopedia Works?
Simple send your question via SMS to 8889.
Charges:
Mobilink's Jazz Encyclopedia is a new unique service, in which a query sent by customer is first automatically searched in the database. If the required result is not found, then the manual agents at Mobilink offices finds the answer to that specific question and reply back to the users. The process takes not more than 15 minute to get the reply back if the answer was not found in the database.
Example Question/Query:
If the user sends an SMS to 8889, asking: "1992 ka cricket World-Cup kaun jeeta tha?"
The application will instantly reply through an SMS from 8889, saying: "Dear user, we have received your request. You will receive an answer within the next 10-15 minutes. Thank you for using Jazz Encyclopedia".
After a few minutes, another SMS containing the answer will be sent from 8889 to the user, saying: "1992 ka cricket World cup Pakistan jeeta tha. Thank you for using Jazz Encyclopedia".
[via: ProPakistani]