Telenor Talkshawk introduced the lowest call rate package in Pakistan. For just Rs.0.05/30 seconds, yes! Its only 5 paisa per 30 seconds call rate. Now from Telenor Talkshawk you can call to Telenor numbers at just 5 Paisa per 30 seconds from 9am to 5pm.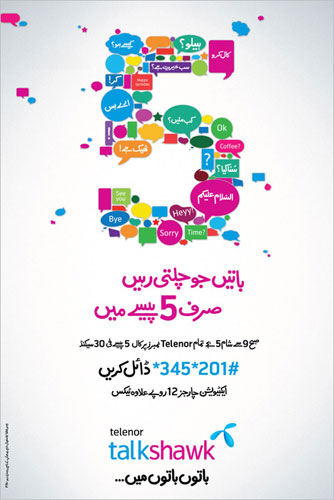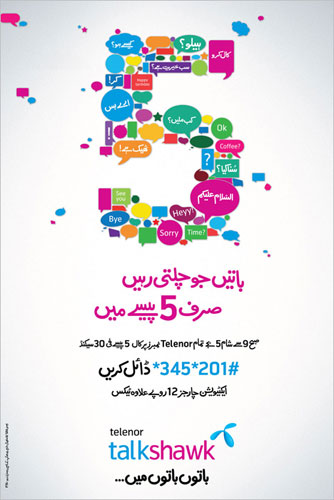 All Telenor talkshawk subscribers (except Talkshawk har second) package, customers can call to other Telenor numbers for just 5 paisa from 9am to 5pm. The subscription is based on daily basis. Rs.12+tax (Rs14.34 with tax) is charged per subscription. Following are the package rates:
Price Plan
Telenor No. (excluding tax)
Telenor FnF (excluding tax)
TS 30 Sec, TS 24 Hrs

TS 60

TS Har Minute

TS A1 (first minute)

TS A1 (second minute onwards)

Rs0.05 /30 sec

Rs0.05 /30 sec

Rs0.10 /minute

Rs0.14 /minute

Rs0.10 /minute

Rs0.03 /30 Sec

–

Rs0.05 /minute

Rs0.11 /minute

Rs0.07 /minute
Lucky Subscriber – 100% Discount
Each day a certain number of "Lucky Subscribers" will be selected randomly and given 100% discount from 9am to 5pm – the same day of subscription.
Lucky subscribers will get to make 100% free calls on day of subscription, while the above rates apply for all other subscribers.
Subscription validity
Customers can avail discount between 9am and 5pm on day of subscription
1 day (i.e. same day) if subscription done between 12 am (midnight) and 4:30 pm
2 days (i.e. till end of next day) if subscription done between 4:30pm and 12 am (midnight)
For further details and FAQs of the package, visit Telenor Pakistan website.