Ufone in three weeks ago announced the launch of Blackberry 9800 torch and took the lead in blackberry prodcuts. Today Telenor also announced the same handset with same prices. Blackberry Torch is the latest handset by RIMs and has everything one wants – Touch screen, Full QWERTY keypad and slider.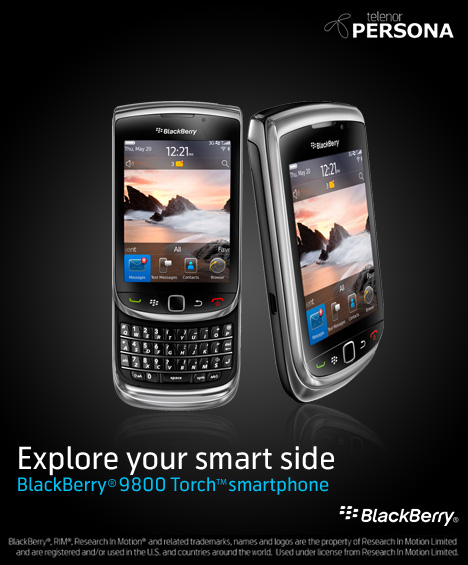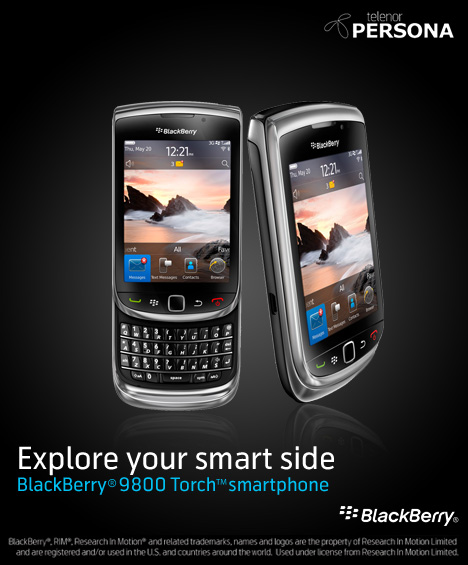 The price of the Telenor Persona's Blackberry 9800 Torch is Rs.55,000. Yes, that's same as Ufone's and now people can have a choice of using this beautiful smart phone with their favorite mobile service provider.
Full Feature of Blackberry 9800 Torch can be view in my previous post about Blackberry Torch 9800 specifications.
Blackberry 9800 Torch major feature is that it has a slider, touch screen and full QWERTY keypad all at the same time. This phone is loaded with the newest operating system of blackberry, the Blackberry OS 6. It has a beautiful 5megapixel camera and 8GB of memory.
[Image Courtesy: Telenor Pakistan]