Yes, you heard it right. Ufone from 17th March 2012 is going to charge an extra 2% from your every reload or uShare. The maintenance charges are a sort of service charges which Ufone would like to have for every customer. The reason for this is seen as the extra cost spent on the network due to electricity shortage in Pakistan.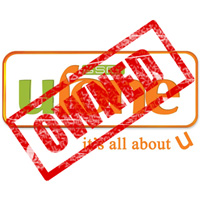 So, instead of cutting down the pays of the high level staff, Ufone decided to start earning more. Telenor last month started charging 7% service charges too and thanks God Ufone remained on 2%, is it because "It's all about U" slogan? Telenor's slogan is "Karoo Mumkin" (Make it possible) so they actually made it possible to deduct 7% charges from their customers on every reload.
The news about the 2% charges is on Ufone's website in the ticker bar.
Following is the calculation of the balance that you will get on loading Rs.100 card:
Reload Amount = Rs.100
Witholding Tax (10%) = Rs.10
Maintenance Charges (2%) = Rs.2
19.5% GST (on remaining Rs.88) = Rs.17.16
Total Usable Balance on Ufone = Rs.100 – Rs.10 – Rs.2 – Rs. 17.16 = Rs.70.84
Yes, almost Rs.30 will be deducted from your Rs.100 card from 17th of March 2012.
Please Note: Another 2% Radio Tax is expected in July 2012 on every reload of all mobile phone connections.