Zong (China Mobile) is slowly getting into the Pakistani mobile users market and is introducing new packages almost every month. Every month Zong has a new attractive package for it's customers and gain attraction of alot of mobile users. Zong is not looking towards the corporate market now. So finally Zong launched the Blackberry services in Pakistan.
Blackberry is considered to be as a business phone and the service for blackberry is a little different from the regular mobile service. The users of blackberry can stay connected to their instant messengers 24/7 and can also send and receive their pop3 emails (including hotmail, live mail, yahoo, gmail, aol, etc.). Therefore, special blackberry service is used for such purposes and obviously it is charged extra in addition to your regular package.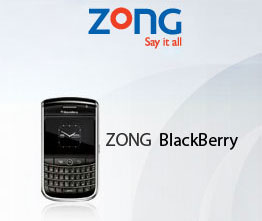 Zong has introduced to latest blackberry handsets with this service – Blackberry Bold 9000 and Blackberry Curve 8900. The cost of the handset is Rs.45,000 and Rs. 40,000 respectively.
Zong Blackberry Internet Service (BIS) Charges:
Rs.1000 + tax per month
Unlimited GPRS Free
Additional security deposit of Rs.500 to be made for Blackberry Internet Services.
For other Frequently Asked Question, please visit Zong Blackberry FAQs page.
Zong is also providing 2 years installment based sale of blackberry handsets:
Blackberry Bold 9000 with BIS Rs.5000/month
Blackberry Curve 8900 with BIS Rs.4000/month
(Installment charges include the Rs.1000/month of blackberry internet service)