Warid introduced the "Bol Anmol" package in which the customer has to spend some balance and will be entitled to receive a free bonus amount which he can use further to make calls or sms. Amazing packages are coming out with different companies and customers are actually enjoying every bit of it.
With Warid Bol Anmol package you have to spend more than Rs.5 using your Warid connection and you will be immediately rewarded with the bonus amount. And the bonus amount is divided into two ways, daily bonus and monthly bonus. The most attractive part is, you will receive both bonus for using Warid.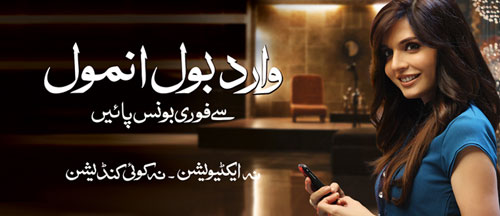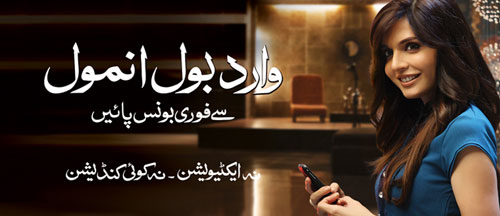 Daily Bonus
Rs. 5 to Rs.10

Rs. 10 to Rs. 15

Rs. 15 to Rs. 20

Rs. 20 to Rs. 30

Rs. 30 to Rs. 50

Rs. 50+

Rs. 0.10

Rs. 0.25

Rs.0.75

Rs. 2.00

Rs. 5.00

Rs. 7.00
Monthly Bonus (Minimum Usage Per Day Rs.10+)

5 Days

10 Days

15 Days

20 Days

25 Days

30 Days

Rs. 5.00

Rs. 5.00

Rs. 5.00

Rs. 6.00

Rs. 7.00

Rs. 8.00
[youtube DVp96-qO5pk nolink]
Frequently Asked Questions
What is "Bonus Rozana" offer?
"Bonus Rozana" is an offer for prepaid a subscriber that gives them instant bonus on their daily usage.
How does it work?
On usage on Rs 5 or more every day you are entitled for bonus.
What is "Bonus Mahana" offer?
"Bonus Mahana" offer gives you bonus according to your monthly usage.
How does it work?
You can get bonus after every 5th day of daily usage of Rs. 10.
What if I spend more than the minimum amount of Rs. 10 on a daily basis?
If you spend more than Rs. 10, you will receive even more bonus through the "Bonus Rozana" offer. However in case of the "Bonus Mahana" offer, bonus will be given after 5 days.
What if I do not spend a minimum of Rs. 10 everyday, maybe every alternate day, will I still get my bonus?
Bonus amount is awarded based upon your usage up to a certain level every day. The bonus is based on a minimum of 5-day usage and a maximum of 30-day usage.
Who is eligible for these offers?
These offers are available to all Warid prepaid users.
Do I have to spend Rs. 5 on calls and SMS only?
You will receive bonus for usage on not only calls or SMS but any activity on the network.
If I am entered in "Bonus Rozana", am I automatically entered in the "Bonus Mahana" offer?
Yes! You are automatically eligible for the "Bonus Mahana" offer based on your daily usage.
Are there any subscription charges to avail these offers?
No! There are no subscription charges.
When will I receive my bonus amount and how will I know when I win it?
You will receive your bonus immediately after any network activity. A notice will be sent to you via Flash message.
How can I use my bonus?
Bonus can be used for on-net calls, on-net & off-net SMS or talky messages. However, it cannot be used for GPRS, MMS or international calls.
How will I be charged if I have bonus available?
All on-net calls, on-net & off-net SMS or talky messages will be charged from available bonus.  Once the bonus is consumed, your main account will be used.
How can I check my bonus?
You can check your bonus by dialling *200#.
Can I share my bonus with friends & family?
No! Your bonus cannot be shared.
What is the expiry of the bonus?
There is no expiry for the bonus.
[Via: WaridTel]