PTCL from 1st May 2011 has increased the line rent of the landline numbers from Rs.174 to Rs.199 and is offering free on-net calls (PTCL to PTCL and PTCL to Vfone) during Sundays and called it s "Super Sunday Offer". The offer is valid for two months period starting from 1st May 2011. Now PTCL Customers can call to any local or nationwide on-net number for free on Sundays.

Effective from May 1st, 2011 PTCL has increased the line rent of the landline numbers from Rs.174 to Rs.199 (excluding tax). To compensate for this, PTCL has offered free unlimited on-net calls during Sundays for the next two months.
PTCL claims that they initiated this so that the people start using the landline numbers again who have moved on to the cellular networks. But to my personal opinion PTCL is playing a very tactful game to increase the rates of their services. From Rs.2.3 per call PTCL moved to Rs.2.3 per 5minutes and then later to Rs.2.3 per 3minutes but finally landed to the Rs.1 per minute call rate. So I guess, there is no difference left in calling from PTCL or any mobile network, rather Mobile network call charges are lesser in some places.
Features:
PTCL Landline offers customized packages and call rates according to customer needs.
PTCL land line offers the most economical call rates.
PTCL Landline provides unmatched voice clarity.
PTCL Landline has the largest network spread across the country.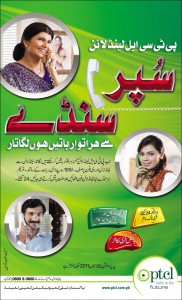 Offer Details:
Line rent: Rs 199
Free minutes : Unlimited On net calls (PSTN to PSTN and PSTN to Vfone numbers) on Sundays
This promotion is valid till 30th June, 2011
SEVP Commercial Naveed Saeed Stated that PTCL always provides best service and packages to its customers and this particular incentive of free on-net calls will enable all PTCL Landline customers to make longer duration calls to their loved ones without worrying about the bill on Sundays. He further added that PTCL has always and will always strive to provide its customers with the best and most affordable services.
Aasif Inam EVP Wire-line Business said this step will reinforce PTCL's image as a customer oriented organization .He further stated that it is our top priority to facilitate our customers to the maximum keeping in mind the needs of our customers by giving Unlimited On-Net Calls on Sundays against a nominal increase in line rent.
Further information can be obtained from PTCL Help line: 1236 or from PTCL franchise and one-stop shops.