Mobilink proving their Jazz slogan 'Apna Hai' reached out to it's customers in Pushto language TV commercial and letting them know that calling to Afghanistan is now at the lowest rates in Pakistan. Afghanistan lies in such a belt that international direct dialing call is very costly in that country. Mobilink brought a new special IDD calling rate for Afghanistan. Now you can call Afghanistan at Rs.4.95 per 30 seconds from Pakistan.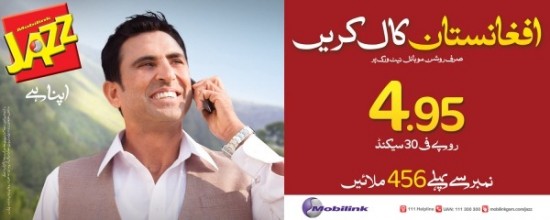 Mobilink today announced their new venture of being close to their Afghani brothers by launching the lowest call rate IDD to Afghanistan at just Rs.4.95 per 30 seconds. You can call 'Roshan Connection' cellular network mobile numbers in Afghanistan only with this offer. Roshan Connection is Afghanistan's leading cellular company with over 5.5 million active subscribers in 230 cities and towns in the country's 34 provinces. Please beware that this offer is currenly only available till 6th April, 2012.
How to call Afghanistan Roshan Mobile from Mobilink Jazz:
Rs. 4.95 per 30 seconds.
Dial 456 before your desired Afghanistan phone number
Terms & Conditions:
Call to Roshan Mobile Network of Afghanistan is only valid under this offer.
No subscription and daily charges apply.
New rates will be valid for 24 hours a day (no time window restriction).
Government taxes apply.
The offer is valid Till April 6, 2012.
Rates are also valid for indigo and Jazba customers.