Mobilink is getting back to it's customers now. The pioneer GSM mobile phone company Mobilink is like a status symbol for people of Pakistan. Whoever is using Mobilink is considered as being a premium mobile user. Recently Mobilink is reshaping their package plans to maintain their reputation in the market. Mobilink introduced voice and sms bundle packages on their postpaid indigo packages.


Mobilink Indigo iTalk package is a monthly based subscription for late night users and weekend calls. You can utilize free minutes from mobilink to mobilink on weekend (i.e. Sunday only) and the night time (12am to 7am).
Terms & Conditions of Mobilink Indigo iTalk Package:
Free minutes are only for calls to mobilink every night between 12am to 7am and on Sundays only.
If a user already have free minutes according to the package plan, then first the package free minutes will be consumed and then iTalk free minutes will be used.
Now on the other hand one of my favourite packages is here by Mobilink. The iSMS package helps the customers to subscribe to bundle sms packages. There are three variations in this package as shown below: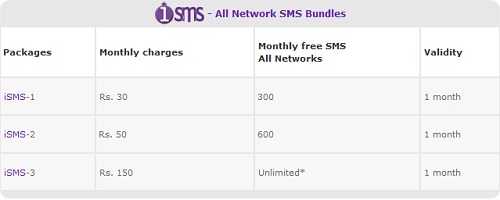 Please note that the Unlimited SMS package contains only 6000 sms per month as a fair use policy. So you can send upto 6000 sms per month to any network in Pakistan for only Rs.150 from Mobilink Indigo postpaid connection.
Note: SMS to special numbers which includes SMS to tv channels, and other services which has a 3 digit number are not free. Those sms will be charged as per package plan or as listed by the SMS campaign.