Mobilink is the pioneer GSM cellular service provider company in Pakistan which started working in year 1994. Still Mobilink holds the largest number of subscribers on their network which makes their network the most busiest one. There are over 2000 employees working at their contact center to help the customers across Pakistan. Mobilink has finally decided to increase the call charges of helpline from Rs.1+tax to Rs.2+tax starting 15th Nov. 2010.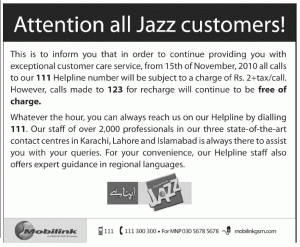 There used to be many prank calls on helpline, and the lines used to be busy attending all the non-serious customers who just wanted to spent time bugging the CSRs. Mobilink few years back decided to put service charges on the calls made to the helpline to filter out these prank calls. Rs.1+tax was charged on every call made to the helpline. Now either Pakistanis are getting richer that they don't care for Rs.1 or Mobilink is getting down in their finances which made them take this new step of increasing the call rate of helpline to Rs.2+tax.
New charges of call made to helpline will be Rs.2.42 (including tax) starting 15th November 2010, which will filter out the maximum traffic on their busy contact center network to make their network more stable and give proper service to their customers. Now it looks like that only person who is facing a series problem will call them. CSRs at contact centers (of all companies) have faced many such calls where customers fight for Rs.1 or Rs.2 extra deduction. I guess, now no such customer will call and CSRs will get a relaxed atmosphere at their offices.