Mobilink after the success of Jazz SMS Khazana part1, 2, 3 and 4 has now announced the round 5 of Jazz SMS Khazana with all new exciting prizes for the customers to win Rs. 2 lac daily, Rs.6 lac every Sunday, 350grams of Gold and many surprise prizes worth upto Rs.1,100,000.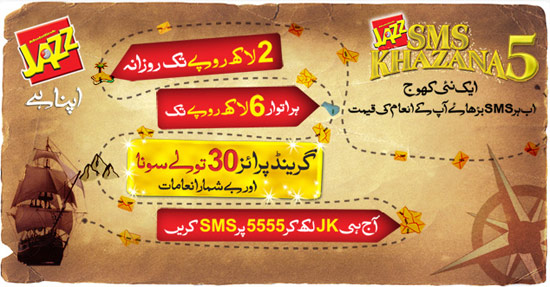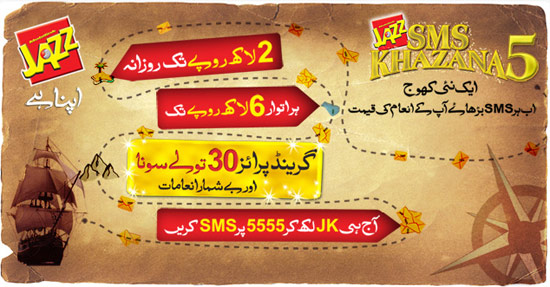 Jazz SMS Khazana is the most successful contest among cellular companies in Pakistan where Mobilink had paid huge amount of cash prizes, cars, ticket, etc to their customers. After the success of 4 rounds of Jazz SMS Khazana now its time for Jazz SMS Khazana 5 which gives you the opportunity to win 30 Tola (350grams) of Gold in the grand prize. The success of the contest obviously has to be because in round 4 Rs. 1 Million was awarded to Jazz SMS Khazana 4 winner.
How to play Jazz SMS Khazana?
Step No. 1
The participant will send "JK" to 5555 to enter the contest. Any other key words or blank message to 5555 will also be accepted.
Step No. 2
The participant will receive a welcome SMS along with a Ringtone (Ringtone will be sent within 24 hours).
Step No. 3
The quiz mechanism consists of multiple choice questions which participants would answer in order to raise the value of the prize money of that specific day's prize, and increase their possibilities to become a winner. The participant will have to choose from option 1 or 2 to reply to a question.
In addition to this, all of these points will be accumulated for consideration to win the Grand Prize at the end of the SMS Khazana 5 campaign.
Step No. 4
The participant will send the answer he/she believes is the correct one in order to raise the prize value. Once answered, user will be notified via SMS whether the answer was correct or incorrect. In case the user does not respond with option 1 or 2 or sends any other text/number, he /she will get a reply message stating the option to be invalid.
Win following Prizes with Jazz SMS Khazana:
Daily prize: Up to PKR 200,000

Minimum: Rs.5000 (if 1 incorrect/invalid SMS is sent)
Maximum: Rs.200,000

Sunday prize: Up to PKR 600,000

Minimum: Rs.5000 (if 1 incorrect/invalid SMS is sent)
Maximum: Rs.600,000

Final Grand prize: 30 Tolas of Gold (≈ 350 gram or 11.25 troy ounces)
Extra Surprise Prizes: Worth of PKR 1,100,000 (The surprise prizes can be cash, vouchers, gift hampers etc, Mobilink has a right to choose what to offer as a surprise prize throughout the campaign)
For more comprehensive details of Jazz SMS Khazana 5 please visit Mobilink website.



[Via: Mobilink]